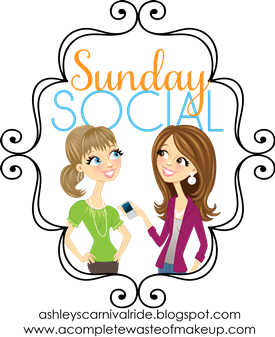 Hey guys, my first ever Sunday Social!
My "blog" isn't even all prettied up and here I am ... already trying to
meet cool new people.
I wanted to incorporate some pictures, but maybe next time.
I really hope I am doing this right ... so here goes!
Top 3 Favorite Kinds of Food:
- Bread. That's a "type" right?
First 3 Things you do in the morning:
- Procrastinate getting out of the bed.
Last 3 Things you do at night:
- Check iPad/email messages.
- Catch up on Draw Something.
- Find a crime/drama show on tv.
3 TV shows you NEVER miss:
3 Places you want to visit:
- Ohio (so much family I've never met!)
- New Hampshire (my sister lives there)
- Paradise Island (again)
3 People you can always count on:
Besides my family & husband?
- Tatiana.
- Jackie.
- Kailee.